WHAT WE BELIEVE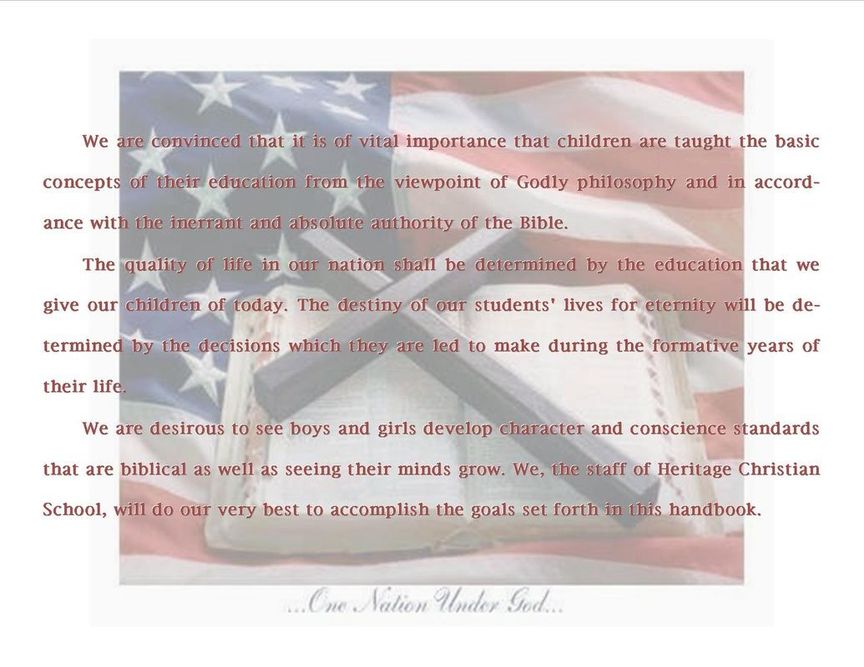 ---

Mission
Heritage Christian School exists to serve Christian families in the Gillette, WY area by:
- Providing a solid academic foundation
- Guiding students as they develop an abiding faith in
Jesus Christ
- Nurturing each child's unique gifts

Vision
Heritage Christian School will be an educational leader in Wyoming by providing excellence in Christian education through academically rigorous, and biblically sound curricula and programs, effectively delivered by a committed faculty and staff who engage in transformational teaching, assist in student spiritual formation, and embrace professional growth.

---

Values
Biblical Foundation
We immerse ourselves in the Word of God and steadfastly measure all school programs, actions, and resources against the teachings of the Bible, and through use of individual and corporate prayer, recognize our total dependence on Jesus Christ.

Education
Provide quality education while maintaining a nurturing environment for students, working collaboratively with colleagues, participating in professional development, involving students in discipleship opportunities, modeling Christ-like leadership, and adhering to HCS's statement of faith and policies.

Stewardship
Act with authenticity and honesty to employ thoroughness in program administration, research-based expertise in educational policy, and diligence in fiscal accountability, understanding that, ultimately, HCS belongs to God and we answer to Him for all we do with that which He has entrusted to our care.

Families
Serve families who represent a range of Christian backgrounds by cultivating partnerships between HCS and parents through effective communication, volunteer opportunities, and fellowship events.

Community
Engage with the community to accurately inform and represent Christian education through HCS programs, service projects, school fundraisers, and community involvement —all the while shining the light of Jesus Christ into our world.
---
Statement of Faith
1. We believe the Bible to be the inspired, the only infallible, authoritative, inerrant Word of God. (II Timothy 3:15, II Peter 1:21)

2. We believe there is one God, eternally existent in three persons: Father, Son, and Holy Spirit. (Genesis 1:1, Matthew 28:19, John 10:30)

3. We believe in the deity of Christ (John 10:33); His virgin birth (Isa.7:14, Matt. 1:23, Luke 1:35); His sinless life (Hebrews 4:15, Hebrews 7:26); His miracles (John 2:11); His vicarious and atoning death (I Cor.15:3, Eph. 1:7, Hebrews 2:9); His resurrection (John 11:25, I Cor.15:4); His ascension to the right hand of the Father (Mark 16:19); His personal return in power and glory (Acts 1:11, Rev. 19:11)

4. We believe in the absolute necessity of regeneration by the
Holy Spirit of or salvation because of the exceeding sinfulness of human nature; and that mankind is justified on the single ground of faith in the shed blood of Christ and that only by God's grace through faith alone we are saved. (John 3:16-19, John 5:24, Romans 3:23, Romans 5:8-9, Eph. 2:8-10, Titus 3:5)


5. We believe in the resurrection of both the saved and the lost; they that are saved unto the resurrection of life, and they that are lost unto the resurrection of damnation. (John 5:28-29)

6. We believe in the spiritual unity of believers in our Lord Jesus Christ. (Romans 8:9, I Cor.12:12-13, Galatians 3:26-28)


7. We believe in the present ministry of the Holy Spirit, by whose indwelling the Christian is enabled to live a godly life. (Romans 8:13-14, I Cor.3:16, I Cor.6:19-20, Eph. 4:30, 5:18)

Denominational Statement
The Statement of Faith is fundamental to the basic Christian tenets, and contains those doctrines to which we unreservedly adhere and teach. In some areas of doctrine, such as the ones listed below, the faculty shall have the liberty to academically state their belief (which is in accord with the Statement of Faith). They shall qualify their statements with the reminder that there are differences of opinion among born again believers, and that the student is reminded to discuss these issues with their parents and pastor. We respect the right of students and parents to hold differing beliefs in these matters:

1. Church government (authority and discipline)

2. Time and mode of baptism

3. Security of the believer

4. Time of the rapture

5. Second work of grace (baptism of the Holy Spirit)

6. Sinless perfection

7. Gifts of the Spirit (tongues, interpretation of tongues, healing, miracle working, prophecy, discerning of spirits)

---

Chapel

Students attend chapel every Wednesday from 8:30 to 9:15. Parents are welcome to attend and sit with their children. Also, if you know someone who would like to be a guest speaker during our chapel time, contact the school office at (307)686-1392 to find out requirements and scheduling.